What to Expect When Using Mobile Phlebotomy Services in Brighton CO
At Drs Choice First, we are proud to offer mobile phlebotomy services in Brighton, CO. Our team of expert phlebotomists is dedicated to providing high-quality and convenient blood collection services right at your doorstep. When you choose our mobile phlebotomy services, you can expect a seamless and professional experience that prioritizes your comfort and well-being.
Convenient Service: Our mobile phlebotomy services eliminate the need for you to travel to a clinic or laboratory for blood tests. We bring the necessary equipment and expertise directly to your location, saving you time and effort.
Expert Phlebotomists: Our team of experienced and highly skilled phlebotomists are well-versed in performing blood draws with precision and care. They follow strict protocols to ensure accurate and reliable results.
Comfortable Experience: We understand that some individuals may feel anxious or uncomfortable during blood collection. Our phlebotomists create a calming and supportive environment, addressing any concerns or questions you may have.
Strict Hygiene Practices: Your safety is our top priority. Our phlebotomists adhere to rigorous hygiene practices, including wearing gloves, using sterile equipment, and properly disposing of waste materials to prevent any risk of infection.
Fast Turnaround Times: Once the blood samples are collected, they are promptly processed and analyzed in our state-of-the-art laboratory. We strive to deliver accurate results within the shortest possible time frame.
Customized Services: Whether you require routine blood tests, specialized screenings, or even home-based wellness panels, our mobile phlebotomy services can be tailored to meet your specific needs and preferences.
With Drs Choice First's mobile phlebotomy services, you can experience the convenience of blood collection without the hassle of visiting a clinic. Our expert phlebotomists ensure a comfortable and efficient experience, providing accurate results in a timely manner. Choose our mobile phlebotomy services in Brighton, CO, and let us take care of your blood collection needs with professionalism and expertise.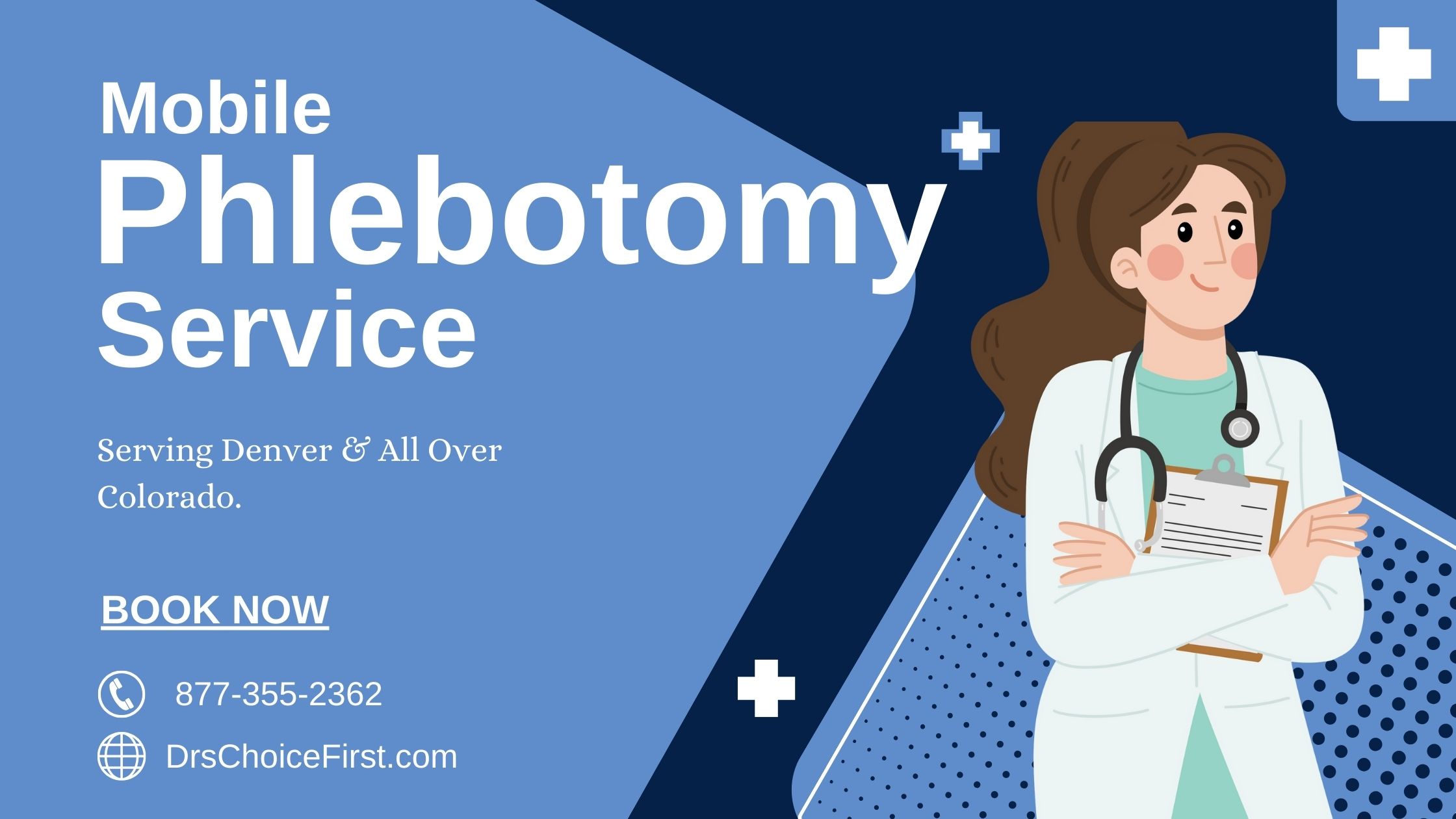 What Sets Drs Choice First Apart from Competitors in Brighton CO
At Drs Choice First, we take pride in offering exceptional mobile phlebotomy services in Brighton CO. Our commitment to excellence and customer satisfaction sets us apart from our competitors. Here are some key factors that make us the preferred choice:
Expertise: Our team of highly skilled and experienced phlebotomists possess the knowledge and expertise to perform blood draws accurately and efficiently. We prioritize patient safety and ensure that all procedures are conducted with utmost care and precision.
Convenience: We understand that visiting a lab or clinic for blood work can be time-consuming and inconvenient. With our mobile phlebotomy services, we bring the convenience of blood testing to your doorstep. Whether it's your home, office, or any other location, our phlebotomists will come to you, saving you valuable time and effort.
Flexibility: We offer flexible appointment scheduling options to cater to your busy lifestyle. Our team works around your schedule, ensuring that you receive the phlebotomy services you need at a time that works best for you.
Quality Assurance: We adhere to strict quality control measures to guarantee accurate and reliable results. Our phlebotomists follow industry standards and use state-of-the-art equipment to ensure the highest level of precision in blood collection.
Comfort and Care: We prioritize patient comfort and provide a caring and compassionate environment during the blood draw process. Our friendly and professional phlebotomists strive to make you feel at ease throughout the procedure.
Privacy and Confidentiality: We understand the importance of maintaining privacy and confidentiality when it comes to your health information. Rest assured that all your personal and medical data will be handled with the utmost confidentiality.
Insurance Coverage: We work with various insurance providers to ensure that our services are accessible and affordable. We will assist you in navigating the insurance process and strive to minimize any out-of-pocket expenses.
In conclusion, Drs Choice First stands out from competitors in Brighton CO due to our expertise, convenience, flexibility, quality assurance, comfort and care, privacy and confidentiality, and insurance coverage. We are dedicated to providing top-notch mobile phlebotomy services that prioritize your convenience and well-being.
Performance and Specification Categories
When evaluating mobile phlebotomy services, it is crucial to consider various performance and specification categories against which the product by Drs Choice First in Brighton CO is often compared to its competitors. These categories provide quantitative measurements that demonstrate the superiority of our product.
Efficiency: Drs Choice First offers a highly efficient mobile phlebotomy service, ensuring minimal waiting times for patients and efficient sample collection processes.
Accuracy: Our product focuses on maintaining a high level of accuracy in sample collection and testing, ensuring reliable results for accurate diagnosis.
Flexibility: Drs Choice First provides flexible scheduling options, allowing patients to conveniently book appointments according to their preferences.
Professionalism: Our experienced team of phlebotomists ensures a professional and compassionate approach, providing a comfortable experience for patients.
Quality Assurance: We adhere to stringent quality control measures, guaranteeing the integrity of samples and accurate reporting of results.
Convenience: With our mobile phlebotomy services, patients can undergo blood tests and sample collection from the comfort of their own homes, eliminating the need for travel and reducing inconvenience.
Timeliness: Drs Choice First prioritizes promptness, ensuring timely arrival and efficient sample collection to meet the needs of patients.
In summary, Drs Choice First in Brighton CO surpasses competitors in crucial performance and specification categories such as efficiency, accuracy, flexibility, professionalism, quality assurance, convenience, and timeliness. Our mobile phlebotomy service provides a superior experience for patients, ensuring efficient and accurate sample collection with a compassionate approach.
Brighton, CO is a vibrant city with a unique blend of small-town charm and modern amenities. One of the highlights of this city is its strong sense of community. Brighton hosts numerous events throughout the year, including the Adams County Fair, Fourth of July celebrations, and the Brighton Festival. The city is also known for its beautiful parks and outdoor recreational opportunities. Barr Lake State Park is a popular destination for fishing, boating, and bird-watching, while the Brighton Oasis Family Aquatic Park offers a fun-filled day for families. Additionally, Brighton is home to a thriving arts scene, with numerous galleries and theaters showcasing local talent. With its friendly atmosphere and diverse range of activities, Brighton is a city that offers something for everyone.
Pros and Cons of Mobile Phlebotomy in Brighton CO
As the leading provider of medical services in Brighton CO, Drs Choice First aims to provide a comprehensive overview of the pros and cons associated with Mobile Phlebotomy. This innovative service brings the convenience of blood collection directly to the patients' homes or desired location. While there are numerous advantages to Mobile Phlebotomy, it is essential to consider certain drawbacks before opting for this service.
Key points to consider:
Convenience: Mobile Phlebotomy offers unparalleled convenience for patients who may have mobility issues, busy schedules, or limited access to medical facilities.
Time-saving: By eliminating the need to travel to a medical facility, Mobile Phlebotomy saves valuable time for patients, allowing them to focus on other commitments.
Reduced anxiety: Some individuals experience anxiety or fear when visiting medical facilities. Mobile Phlebotomy can help alleviate these concerns, as patients can undergo blood collection in the comfort of their own environment.
Personalized care: Mobile Phlebotomy provides a more personalized experience, allowing healthcare professionals to deliver individualized care and address specific patient needs.
Increased accessibility: This service is particularly beneficial for individuals residing in remote areas or those with limited transportation options, ensuring they can receive necessary blood tests without significant barriers.
Enhanced infection control: By minimizing the exposure to other patients, Mobile Phlebotomy reduces the risk of cross-contamination and the spread of infectious diseases.
Quality control challenges: Conducting blood collection in non-traditional settings may pose challenges in maintaining strict quality control measures, including handling and transportation of samples.
Equipment limitations: Mobile Phlebotomy requires specialized equipment and supplies that may be limited or less readily available compared to established medical facilities.
Financial considerations: The cost of Mobile Phlebotomy services may be higher due to the additional expenses associated with transportation, specialized equipment, and personalized care.
Limited scope of services: While Mobile Phlebotomy covers the collection of blood samples, it may not offer the full range of medical services available at traditional healthcare facilities.
In summary, Mobile Phlebotomy in Brighton CO presents several advantages, including convenience, time-saving, reduced anxiety, personalized care, increased accessibility, and enhanced infection control. However, it is crucial to consider the challenges related to quality control, equipment limitations, financial considerations, and the limited scope of services. By understanding both the benefits and drawbacks, patients can make informed decisions regarding their healthcare needs.
Why Choose Drs Choice First for Your Mobile Phlebotomy Needs in Brighton CO
When it comes to mobile phlebotomy services in Brighton CO, Drs Choice First is the clear choice. With our team of highly trained and experienced phlebotomists, we are dedicated to providing convenient and reliable services right at your doorstep.
Here are a few reasons why you should contact Drs Choice First today:
Convenience: Our mobile phlebotomy service eliminates the hassle of traveling to a clinic or hospital, saving you time and effort. We bring the necessary equipment directly to your home or office, ensuring a seamless and convenient experience.
Expertise: Our phlebotomists are skilled professionals who have undergone rigorous training and possess the necessary certifications. You can trust us to handle your blood work with precision and care, ensuring accurate and reliable results.
Comfort: For those who may feel anxious or uncomfortable in clinical settings, our mobile phlebotomy service provides a more relaxed and familiar environment. We prioritize your comfort and aim to make the experience as stress-free as possible.
Time-saving: By choosing Drs Choice First, you can avoid long waiting times typically associated with traditional phlebotomy services. We value your time and strive to provide efficient and prompt services, ensuring minimal disruption to your schedule.
Personalized Care: We understand that each patient is unique, and we tailor our services to meet your individual needs. Our friendly and compassionate phlebotomists prioritize your comfort and satisfaction, ensuring a positive experience from start to finish.
Don't wait any longer to get the mobile phlebotomy services you need. Contact Drs Choice First in Brighton CO today and experience the convenience, expertise, and personalized care that sets us apart.
Mobile Phlebotomy in Brighton CO Dr Choice First DNA Testing, Denver, CO, 877-355-2362