Mobile Phlebotomy in Castle Rock CO
At Drs Choice First, we are proud to offer our expert mobile phlebotomy services in Castle Rock CO. Our team of experienced professionals are well-versed in the field of phlebotomy and are committed to providing exceptional care to our clients. When you choose our mobile phlebotomy service, you can expect a convenient and efficient experience, without the need to visit a clinic or hospital.
Our expert phlebotomists will travel to your location, whether it's your home or workplace, saving you time and effort.
We ensure a comfortable and safe experience by using sterile equipment and following strict protocols.
Our team is highly skilled in locating veins and drawing blood with minimal discomfort.
We offer a wide range of phlebotomy services, including blood tests, specimen collection, and more.
With our mobile service, you can avoid crowded waiting rooms and long wait times.
We prioritize patient confidentiality and ensure that all personal information is handled with utmost care.
Choosing mobile phlebotomy with Drs Choice First in Castle Rock CO means you can have your blood drawn in the comfort of your own surroundings, without compromising on the quality of care. Our experienced team will make the process as seamless as possible, ensuring accurate results and a positive experience for every client.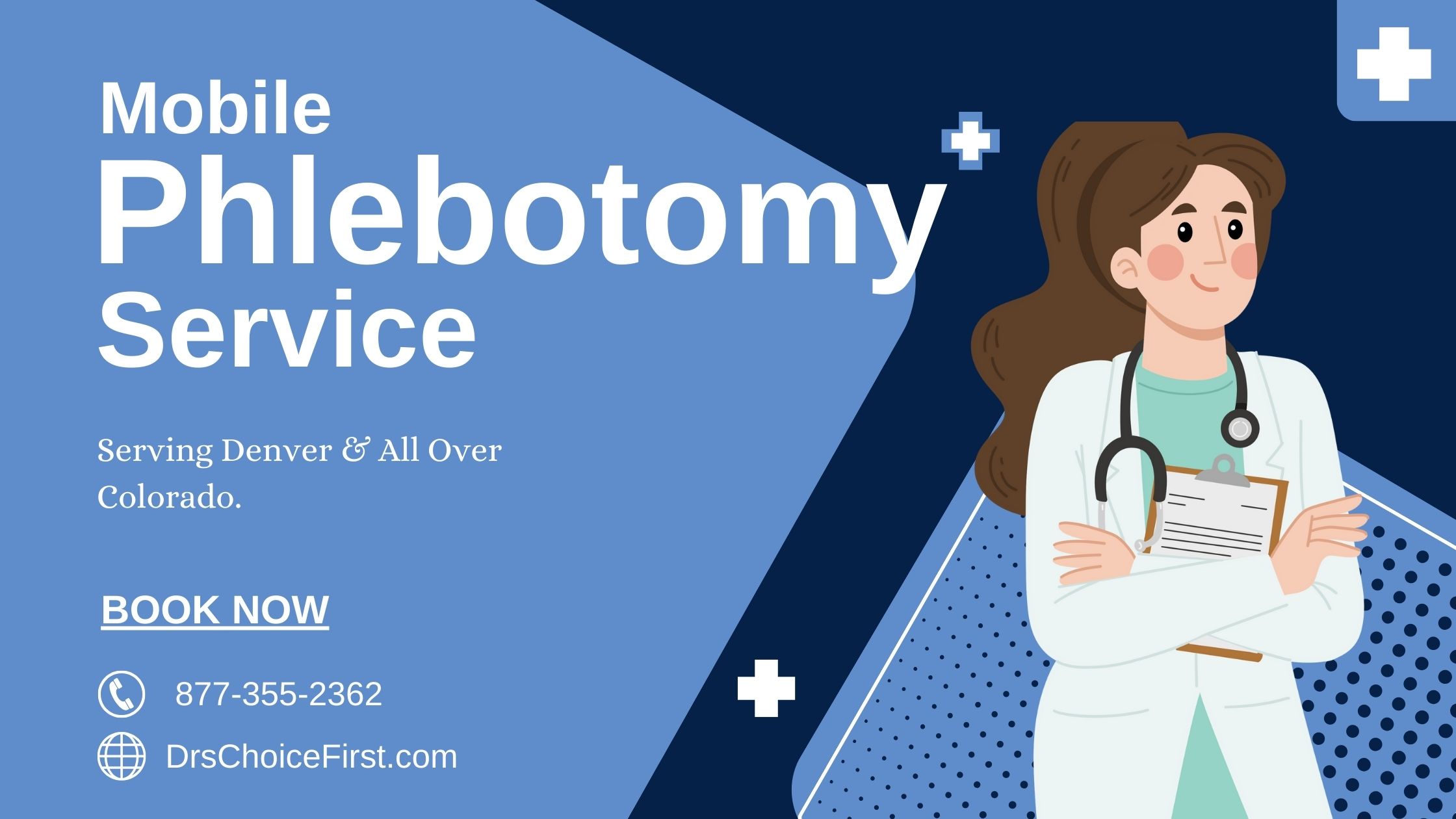 What Sets Drs Choice First Apart from Competitors in Castle Rock CO
When it comes to mobile phlebotomy services in Castle Rock CO, Drs Choice First stands out from the competition due to several key factors. Our commitment to providing exceptional patient care, employing highly skilled phlebotomists, utilizing advanced technology, and offering convenient and flexible scheduling options sets us apart in the industry.
Exceptional Patient Care: At Drs Choice First, we prioritize the comfort and well-being of our patients. Our phlebotomists are trained to provide gentle and compassionate care, ensuring a positive experience for every individual.
Highly Skilled Phlebotomists: We understand the importance of skilled professionals when it comes to blood sample collection. Our team consists of experienced and certified phlebotomists who are proficient in their field, guaranteeing accurate and efficient procedures.
Advanced Technology: Drs Choice First is equipped with state-of-the-art mobile phlebotomy equipment. Our advanced tools enable us to perform blood draws with precision and minimize any discomfort or inconvenience for our patients.
Convenient Scheduling: We recognize the busy lives and unique circumstances of our clients. That's why we offer flexible scheduling options, including evening and weekend appointments, to accommodate their needs. Our mobile services bring the convenience of blood sample collection directly to their location.
Strict Adherence to Safety and Hygiene: At Drs Choice First, we prioritize the safety of both our patients and staff. We strictly adhere to industry-standard safety protocols and maintain a clean and sterile environment during all phlebotomy procedures.
In summary, Drs Choice First in Castle Rock CO distinguishes itself in the field of mobile phlebotomy through its commitment to exceptional patient care, highly skilled phlebotomists, advanced technology, convenient scheduling options, and strict adherence to safety and hygiene standards. With our comprehensive services, we strive to provide a seamless and comfortable experience for all our clients.
Performance and Specification Categories
When evaluating the performance of the Mobile Phlebotomy product offered by Drs Choice First in Castle Rock CO, it is important to consider several key categories in which this product is often compared or measured against competitors. These categories include:
Accuracy: Drs Choice First Mobile Phlebotomy product consistently delivers accurate results, ensuring reliable diagnostic testing for patients.
Efficiency: Our product streamlines the phlebotomy process, allowing for faster and more efficient blood sample collection and processing.
Patient Comfort: Drs Choice First prioritizes patient comfort by using innovative techniques and technologies to minimize discomfort during the phlebotomy procedure.
Reliability: Our Mobile Phlebotomy product is built with robust materials and advanced technology, ensuring consistent performance and reliability.
Convenience: With our mobile solution, healthcare professionals can easily perform phlebotomy procedures at the patient's location, eliminating the need for travel and reducing waiting times.
Drs Choice First in Castle Rock CO excels in all these performance categories, outperforming competitors in the market. Our commitment to accuracy, efficiency, patient comfort, reliability, and convenience sets us apart and allows healthcare professionals to provide exceptional care to their patients.
Castle Rock, Colorado, is a vibrant city with numerous highlights that make it a truly special place to visit or call home. One of the main attractions is the iconic Castle Rock itself, a massive rock formation that stands as a symbol of the city's unique character. The city also boasts a charming downtown area, filled with quaint shops, boutiques, and restaurants, offering a delightful shopping and dining experience. Outdoor enthusiasts are drawn to Castle Rock's extensive network of trails and parks, where they can enjoy hiking, biking, and picnicking amidst the breathtaking natural beauty. Additionally, the city hosts a wide range of events and festivals throughout the year, including the renowned Castle Rock Artfest, which celebrates local artists and their works. With its picturesque landscapes, lively downtown scene, and a strong sense of community, Castle Rock has something to offer for everyone.
Pros and Cons of Mobile Phlebotomy in Castle Rock CO
As experts in the field, Drs Choice First in Castle Rock CO understands the importance of examining the pros and cons of mobile phlebotomy services. Mobile phlebotomy, a convenient alternative to visiting a healthcare facility for blood work, brings unique benefits and drawbacks to consider.
Convenience: Mobile phlebotomy offers the convenience of having blood samples collected in the comfort of one's own home or office, saving individuals time and effort.
Accessibility: Mobile phlebotomy brings essential healthcare services to individuals who may have limited mobility, are homebound, or reside in remote areas.
Reduced anxiety: For individuals who may experience fear or anxiety associated with medical settings, mobile phlebotomy provides a more relaxed and familiar environment, promoting a positive experience.
Personalized care: Mobile phlebotomists can provide personalized attention and address specific needs, ensuring a comfortable and tailored experience for patients.
Increased privacy: By opting for mobile phlebotomy, individuals can maintain their privacy by avoiding crowded waiting rooms and interacting with healthcare professionals in a more intimate setting.
Despite the numerous advantages, it is crucial to consider the potential drawbacks of mobile phlebotomy:
Equipment limitations: Mobile phlebotomists may have limited access to specialized equipment and facilities, which could impact the range of tests that can be conducted.
Sample integrity: Transporting blood samples from remote locations to laboratories introduces the risk of sample degradation or contamination, potentially affecting the accuracy of test results.
Emergency situations: Mobile phlebotomy may not be suitable in emergency situations where immediate medical attention is required, as it may delay the necessary interventions.
Insurance coverage: Some insurance providers may not fully cover mobile phlebotomy services, potentially resulting in additional out-of-pocket expenses for patients.
Availability and scheduling: The availability of mobile phlebotomy services may be limited, and scheduling appointments can be more challenging compared to visiting a healthcare facility.
In summary, mobile phlebotomy in Castle Rock CO offers the convenience of home-based blood sample collection, increased accessibility for individuals with limited mobility, and a more relaxed environment. However, it is essential to consider the potential limitations, such as equipment constraints, sample integrity concerns, and limitations in emergency situations. Additionally, insurance coverage and appointment scheduling may vary. As a trusted provider, Drs Choice First in Castle Rock CO recognizes the importance of weighing these pros and cons to make informed decisions regarding mobile phlebotomy services.
Why Choose Drs Choice First for Your Mobile Phlebotomy Needs in Castle Rock CO
When it comes to mobile phlebotomy services in Castle Rock CO, Drs Choice First is the clear choice. With our team of highly skilled and experienced phlebotomists, we are committed to providing exceptional care and convenience for all your blood draw needs.
By choosing Drs Choice First, you can expect:
Convenience: Our mobile phlebotomy services eliminate the need for you to travel to a clinic or hospital. We come to you, whether it's your home, office, or any other preferred location in Castle Rock CO.
Expertise: Our phlebotomists are trained professionals who prioritize accuracy and patient comfort. They are well-versed in the latest techniques and use state-of-the-art equipment to ensure reliable and efficient blood draws.
Reliability: We understand the importance of timely and dependable service. With Drs Choice First, you can trust that our phlebotomists will arrive at your chosen location promptly and provide the necessary services without any unnecessary delays.
Quality Care: Your health and well-being are our top priorities. We adhere to strict safety and hygiene protocols to ensure a sterile and secure environment during every blood draw. Rest assured that you are in capable hands with Drs Choice First.
Don't settle for inconvenience or subpar service when it comes to your mobile phlebotomy needs. Contact Drs Choice First today and experience the difference we can make in providing exceptional and hassle-free blood draw services in Castle Rock CO.
Mobile Phlebotomy in Castle Rock CO Dr Choice First DNA Testing, Denver, CO, 877-355-2362