Mobile Phlebotomy in Highlands Ranch CO: A Convenient and Professional Experience
At Drs Choice First in Highlands Ranch CO, we pride ourselves on providing top-quality mobile phlebotomy services. Our team of expert phlebotomists is dedicated to ensuring a convenient and comfortable experience for our clients. With our depth of knowledge and years of experience in the field, we understand the importance of accurate and efficient blood sample collection. Here's what you can expect when you choose our mobile phlebotomy services:
Professional and Certified Phlebotomists: Our team consists of skilled and certified phlebotomists who have undergone rigorous training and possess extensive knowledge in blood sample collection techniques.
Convenience at Your Doorstep: With our mobile phlebotomy service, you no longer need to visit a clinic or hospital for blood work. Our phlebotomists will come to your preferred location, whether it's your home, workplace, or any other convenient setting.
Patient Comfort is Our Priority: We understand that some individuals may have anxiety or fear associated with blood draws. Our phlebotomists are trained to provide a calming and supportive environment, ensuring a comfortable experience for every client.
Strict Adherence to Safety and Hygiene Standards: Your safety is of utmost importance to us. We strictly follow all industry guidelines and maintain impeccable hygiene practices to ensure the integrity and accuracy of your blood sample collection.
Accurate and Timely Results: Once the blood samples are collected, they are sent to our trusted laboratory partners for analysis. We strive to provide accurate and timely results, enabling healthcare professionals to make informed decisions about your health.
With Drs Choice First's mobile phlebotomy services, you can experience the convenience and professionalism of having blood work done in the comfort of your own surroundings. Our team of expert phlebotomists is committed to ensuring a seamless and reliable experience, backed by our in-depth knowledge and understanding of the field. Choose our services for hassle-free and efficient blood sample collection.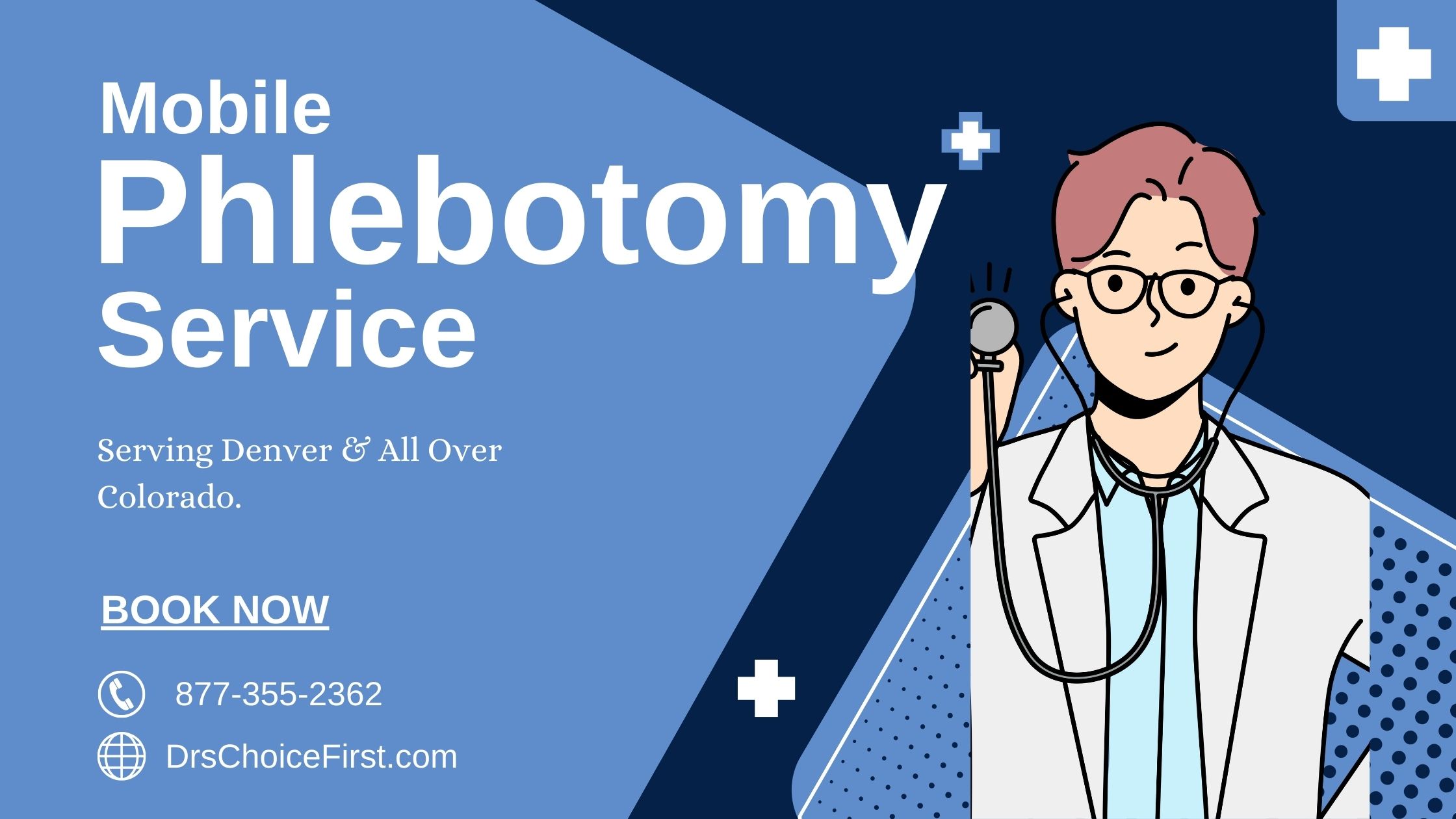 What Sets Drs Choice First Apart from Competitors in Highlands Ranch CO
When it comes to Mobile Phlebotomy in Highlands Ranch CO, Drs Choice First stands out from its competitors due to several key factors:
Convenience: Drs Choice First offers mobile phlebotomy services, eliminating the need for patients to visit a clinic or hospital. Our highly skilled phlebotomists will come to your preferred location, whether it's your home, office, or any other convenient spot, saving you time and effort.
Expertise: Our team of phlebotomists at Drs Choice First possesses extensive knowledge and experience in the field. They are trained professionals who ensure accurate blood sample collection while prioritizing patient comfort and safety.
Advanced Technology: Drs Choice First utilizes state-of-the-art equipment and technology to streamline the phlebotomy process. We employ modern techniques that enhance efficiency and minimize discomfort during blood sample collection.
Customized Services: Understanding that each patient has unique needs, Drs Choice First provides personalized mobile phlebotomy services. We tailor our approach based on your specific requirements, ensuring a comfortable and satisfactory experience.
Strict Quality Control: At Drs Choice First, maintaining the highest standards of quality is of utmost importance to us. We adhere to strict protocols and follow industry best practices to ensure accurate and reliable results for every blood sample collected.
Timely Results: We understand the importance of timely results for medical diagnoses and treatments. Drs Choice First prioritizes efficient processing of blood samples, ensuring that results are delivered promptly, allowing for timely medical interventions if necessary.
In summary, Drs Choice First distinguishes itself from competitors in Highlands Ranch CO through its commitment to convenience, expertise, advanced technology, customized services, strict quality control, and timely result delivery. By choosing Drs Choice First for your mobile phlebotomy needs, you can expect a seamless and personalized experience that prioritizes your comfort and ensures accurate results.
Performance and Specification Categories
When comparing the Mobile Phlebotomy product offered by Drs Choice First in Highlands Ranch, CO to its competitors, several performance and specification categories come into play. These categories are critical in determining the overall quality and effectiveness of the product.
Accuracy: Drs Choice First ensures the highest level of accuracy with their Mobile Phlebotomy product, utilizing advanced technology and precision instruments. This ensures reliable and precise blood collection, minimizing errors and improving patient outcomes.
Efficiency: The Mobile Phlebotomy service provided by Drs Choice First offers exceptional efficiency, allowing for streamlined blood collection processes. By optimizing scheduling, route planning, and utilizing experienced phlebotomists, Drs Choice First reduces waiting times and improves overall productivity.
Convenience: Drs Choice First understands the importance of convenience for both patients and healthcare providers. Their Mobile Phlebotomy product allows for on-site blood collection at the patient's preferred location, eliminating the need for travel and reducing disruption to daily routines.
Quality Assurance: Drs Choice First prioritizes quality assurance in their Mobile Phlebotomy service. Rigorous protocols, adherence to industry standards, and regular training of phlebotomists ensure that the highest quality of blood samples is obtained for accurate diagnostic testing.
Customer Satisfaction: Drs Choice First places great emphasis on customer satisfaction. By providing exceptional service, personalized care, and prompt communication, they strive to exceed customer expectations and build lasting relationships.
In summary, Drs Choice First's Mobile Phlebotomy product in Highlands Ranch, CO excels in accuracy, efficiency, convenience, quality assurance, and customer satisfaction. These key performance categories set them apart from competitors, making them the preferred choice for reliable and convenient blood collection services.
Highlands Ranch, CO, is a vibrant and picturesque city that offers residents and visitors a plethora of highlights. Nestled against the stunning Rocky Mountains, the city boasts breathtaking natural beauty, with countless parks, trails, and open spaces to explore. The community prides itself on its strong commitment to education, with top-rated schools and a wide range of educational opportunities. Additionally, Highlands Ranch offers a variety of recreational activities, including world-class golf courses, sports complexes, and a state-of-the-art recreation center. The city also hosts numerous events and festivals throughout the year, showcasing the rich cultural diversity and spirit of the community. With its close proximity to downtown Denver, residents of Highlands Ranch enjoy easy access to a thriving urban center while still appreciating the tranquility and charm of suburban living.
The Pros and Cons of Mobile Phlebotomy in Highlands Ranch CO
Mobile phlebotomy, a service offered by Drs Choice First in Highlands Ranch CO, provides the convenience of blood sample collection at a location of the patient's choice. However, like any service, it comes with its own set of pros and cons that individuals should consider before availing themselves of this option.
Pros:
Convenience and flexibility for patients who may have difficulty traveling to a clinic or hospital.
Reduces wait times and eliminates the need for patients to spend time in a medical facility.
Lessens the potential exposure to infections and other illnesses that may be present in a clinical setting.
Enables individuals with limited mobility or chronic illnesses to receive necessary blood tests without inconvenience.
Allows individuals to have blood drawn in the comfort and privacy of their own homes or preferred location.
Cons:
Higher cost compared to traditional phlebotomy services due to the added convenience and personalized nature of the service.
May not be suitable for individuals with complex medical conditions that require immediate access to additional medical resources.
Availability of mobile phlebotomy services may be limited in certain areas, limiting accessibility for some patients.
Potential delays or scheduling conflicts may occur due to external factors such as traffic or unforeseen circumstances.
Requires patients to ensure a suitable environment for blood collection, including cleanliness and appropriate storage of samples.
In summary, mobile phlebotomy in Highlands Ranch CO offered by Drs Choice First brings convenience and flexibility to patients, allowing for blood sample collection at a location of their choice. However, it is important to consider the added cost, potential limitations, and necessary preparations when opting for this service. Ultimately, individuals should weigh the convenience against the potential drawbacks to make an informed decision regarding their blood testing needs.
Why Choose Drs Choice First for Your Mobile Phlebotomy Needs in Highlands Ranch CO?
When it comes to your health, convenience and quality of service should be top priorities. That's why Drs Choice First in Highlands Ranch CO is the perfect choice for all your mobile phlebotomy needs. With their team of highly skilled and experienced phlebotomists, you can rest assured that you will receive accurate and reliable results, all from the comfort of your own home.
At Drs Choice First, they understand the importance of minimizing the stress and hassle often associated with medical procedures. By offering mobile phlebotomy services, they eliminate the need for you to travel to a clinic or hospital, saving you valuable time and energy. Whether you require routine blood work, specialized testing, or even blood donation services, their dedicated team will come to you at a time and place that suits your schedule.
With a commitment to providing exceptional patient care, Drs Choice First ensures that every interaction is personalized, comfortable, and efficient. Their phlebotomists are trained to handle even the most delicate veins, ensuring a virtually painless experience. Additionally, they strictly adhere to industry standards and follow proper protocols to maintain a safe and sterile environment.
Don't compromise on your health. Contact Drs Choice First today for all your mobile phlebotomy needs in Highlands Ranch CO. Experience the convenience, quality, and professionalism that they have to offer. Your well-being deserves nothing less.
Mobile Phlebotomy in Highlands Ranch CO Dr Choice First DNA Testing, Denver, CO, 877-355-2362