Mobile Phlebotomy in Ken Caryl CO: An Expert's Perspective
At Drs Choice First, we pride ourselves in providing top-notch mobile phlebotomy services in the Ken Caryl CO area. Our team of highly skilled and experienced phlebotomists is dedicated to ensuring a seamless and comfortable experience for our patients. With our mobile phlebotomy service, users can expect convenience, efficiency, and expert care right at their doorstep.
Our phlebotomists have undergone extensive training and possess in-depth knowledge of the best practices in mobile phlebotomy.
We understand the importance of maintaining a sterile and safe environment during the blood draw process.
Our team uses state-of-the-art equipment and follows strict protocols to ensure accurate and reliable results.
We prioritize patient comfort and take extra care to minimize any discomfort or anxiety associated with the blood draw procedure.
Our mobile phlebotomy service offers flexibility and convenience, allowing patients to schedule appointments at their preferred location and time.
We provide a comprehensive range of phlebotomy services, including blood draws, specimen collection, and specialized testing.
Our expert phlebotomists are well-versed in handling various patient populations, including children, elderly individuals, and those with challenging veins.
We strictly adhere to privacy regulations, ensuring the confidentiality and security of patient information.
Our team is committed to providing exceptional customer service, addressing any concerns or questions patients may have throughout the process.
With Drs Choice First, you can expect a seamless and professional mobile phlebotomy experience. Our expert phlebotomists possess a wealth of knowledge and experience, ensuring accurate and reliable results while prioritizing patient comfort and convenience. Whether you require routine blood tests or specialized specimen collection, our mobile phlebotomy service in Ken Caryl CO is here to serve you with utmost care and expertise.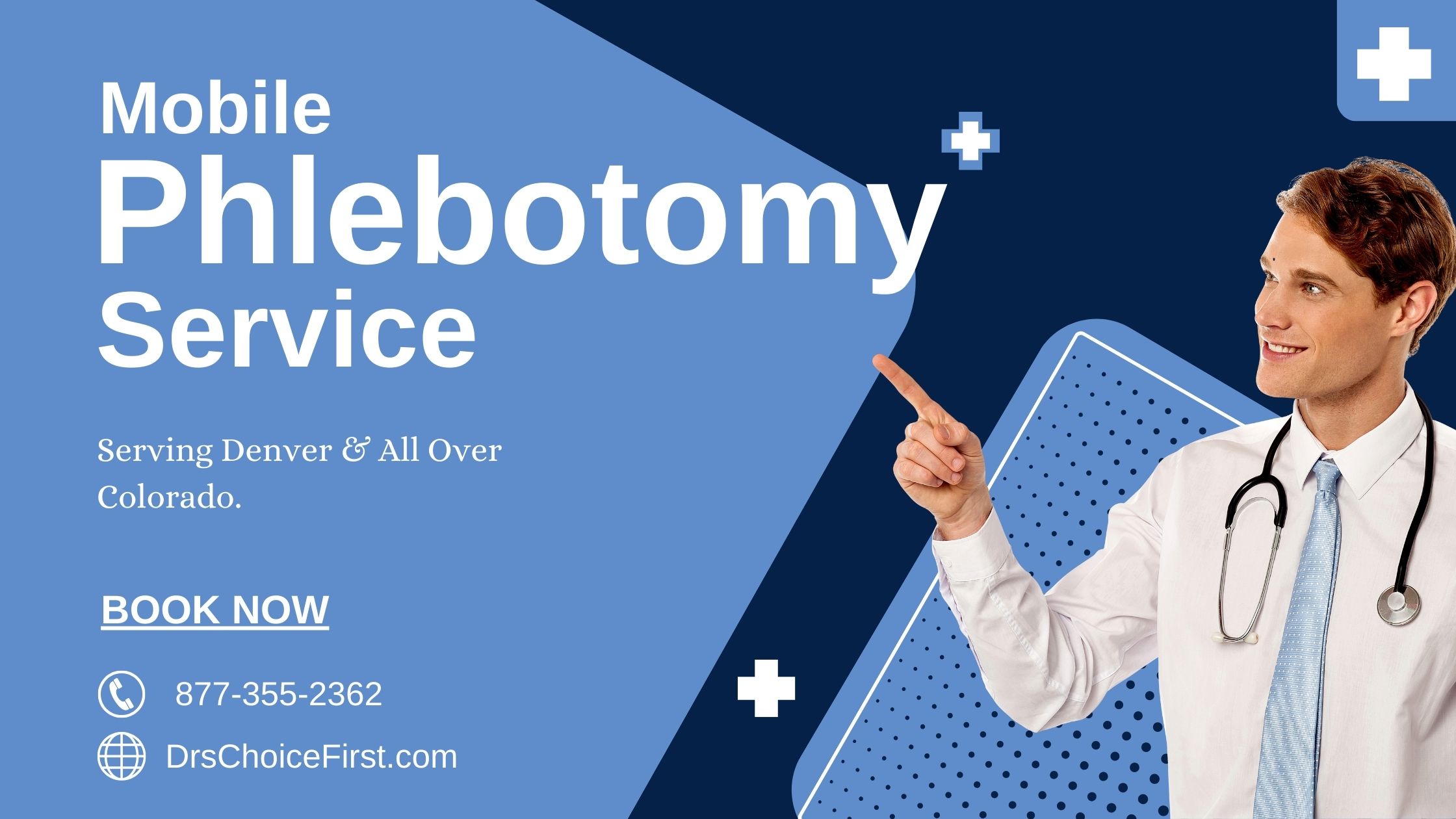 What Sets Drs Choice First Apart from Competitors in Ken Caryl CO
When it comes to Mobile Phlebotomy services in Ken Caryl CO, Drs Choice First stands out from its competitors in several key ways. We prioritize the highest standards of professionalism, convenience, and patient care, ensuring that our clients receive top-notch service that exceeds their expectations. Here are the most important factors to consider when choosing Drs Choice First:
Expertise: Our team of phlebotomists is highly skilled and experienced in providing mobile blood collection services. They undergo rigorous training and stay updated with the latest techniques and best practices in the field.
Convenience: We understand the importance of convenience for our clients, which is why we offer mobile phlebotomy services. Our phlebotomists will come to your desired location, whether it's your home, office, or any other preferred setting, saving you time and hassle.
Accuracy and Efficiency: At Drs Choice First, we prioritize accuracy and efficiency in every phlebotomy procedure. We use state-of-the-art equipment and follow strict protocols to ensure precise and reliable results, minimizing discomfort and maximizing the overall experience.
Exceptional Patient Care: Our commitment to patient care sets us apart. We prioritize building strong relationships with our clients, ensuring their comfort, and addressing any concerns they may have. Our friendly and empathetic phlebotomists strive to create a positive and stress-free experience for every patient.
Strict Adherence to Safety Standards: We adhere to the highest safety standards to protect the well-being of our clients. Our phlebotomists maintain strict infection control measures, including proper sterilization of equipment and disposal of biohazardous materials, to guarantee a safe and hygienic environment.
Timely and Reliable Results: Drs Choice First understands the importance of timely results. We work diligently to deliver accurate test results within the promised timeframe, allowing our clients to make informed decisions about their health without unnecessary waiting.
In summary, Drs Choice First in Ken Caryl CO stands out from its competitors by providing expert phlebotomy services with a focus on convenience, accuracy, patient care, safety, and timely results. Our team of skilled professionals ensures a stress-free and efficient experience, delivering exceptional service that exceeds expectations.
Performance Comparison and Measurement Categories
When evaluating the performance of the Mobile Phlebotomy product offered by Drs Choice First in Ken Caryl CO, there are several key categories that are often used to compare and measure its specifications against competitors. These categories are crucial in determining the overall quality and effectiveness of the product.
Accuracy: Drs Choice First's Mobile Phlebotomy consistently delivers highly accurate results, ensuring precision in blood collection and analysis.
Efficiency: Our product is designed to streamline the phlebotomy process, optimizing time and resources for both healthcare professionals and patients.
Portability: The Mobile Phlebotomy device by Drs Choice First is lightweight and compact, allowing for easy transportation and use in various healthcare settings.
Security: We prioritize patient privacy and data protection, implementing robust security measures to safeguard sensitive information during the phlebotomy process.
User-Friendliness: Our product is equipped with intuitive features and a user-friendly interface, making it accessible and easy to operate for healthcare professionals of all skill levels.
In conclusion, Drs Choice First's Mobile Phlebotomy excels in crucial performance categories, including accuracy, efficiency, portability, security, and user-friendliness. By consistently surpassing the competition in these areas, our product offers healthcare professionals in Ken Caryl CO a superior solution for mobile phlebotomy services.
Ken Caryl, Colorado, is a picturesque city nestled in the foothills of the Rocky Mountains. Its breathtaking natural beauty is one of the highlights of this charming city. With its vast open spaces, hiking trails, and stunning mountain views, outdoor enthusiasts will find themselves in paradise. Additionally, Ken Caryl boasts a tight-knit community that embraces a welcoming and inclusive atmosphere. The city also offers a variety of recreational activities, including golf courses, tennis courts, and swimming pools, ensuring there is something for everyone. In terms of education, Ken Caryl is home to excellent schools that prioritize the academic success of its students. With its proximity to the vibrant city of Denver, residents of Ken Caryl can easily access the amenities of a larger city while enjoying the tranquility of a smaller community. Overall, Ken Caryl is a city that effortlessly combines natural beauty, community spirit, and a high quality of life.
Pros and Cons of Mobile Phlebotomy in Ken Caryl CO
As the leading mobile phlebotomy service provider in Ken Caryl CO, Drs Choice First aims to provide a comprehensive analysis of the pros and cons associated with this innovative healthcare service. Mobile phlebotomy offers numerous benefits, but it also comes with certain drawbacks that need to be considered.
Convenience: Mobile phlebotomy allows patients to have their blood drawn in the comfort of their own homes, eliminating the need for travel and reducing wait times at busy clinics.
Accessibility: This service is particularly beneficial for individuals with limited mobility, elderly patients, or those living in remote areas where access to healthcare facilities is limited.
Time-saving: Mobile phlebotomy eliminates the need for patients to take time off work or rearrange their schedules to visit a clinic, making it a convenient option for busy individuals.
Reduced anxiety: Some individuals may experience anxiety or fear when visiting medical facilities. With mobile phlebotomy, patients can feel more at ease in their familiar environment, leading to a more relaxed experience.
Personalized care: Mobile phlebotomists can provide personalized attention and ensure a comfortable experience for each patient, as they are able to focus solely on the individual in their own setting.
Despite these advantages, there are also a few drawbacks associated with mobile phlebotomy that should be considered:
Equipment limitations: Mobile phlebotomists may have limited access to specialized equipment and testing facilities, which could potentially affect the range of tests that can be performed on-site.
Transportation risks: Mobile phlebotomists must travel to various locations, which can expose them to potential road hazards and accidents.
Privacy concerns: Patients may have concerns about the privacy and confidentiality of their medical information when blood samples are collected outside of a traditional clinical setting.
Cost considerations: Mobile phlebotomy services may incur additional costs, depending on the location and individual requirements of each patient.
In conclusion, mobile phlebotomy in Ken Caryl CO offers significant advantages such as convenience, accessibility, time-saving, reduced anxiety, and personalized care. However, it is important to consider the limitations in terms of equipment, transportation risks, privacy concerns, and potential additional costs. At Drs Choice First, we strive to provide the highest quality mobile phlebotomy services while addressing these pros and cons to ensure a positive experience for our patients.
Why Choose Drs Choice First for Your Mobile Phlebotomy Needs in Ken Caryl CO
When it comes to mobile phlebotomy services in Ken Caryl CO, Drs Choice First is the clear choice. With our team of highly skilled and experienced phlebotomists, we are dedicated to providing the highest level of care and convenience to our clients.
By choosing Drs Choice First, you can expect:
Convenience: Our mobile phlebotomy services allow you to have your blood drawn in the comfort of your own home or office, eliminating the need to travel to a clinic or lab.
Expertise: Our phlebotomists are trained professionals who specialize in drawing blood samples. They possess the knowledge and skill to ensure a quick and painless experience.
Flexibility: We understand that your time is valuable. That's why we offer flexible scheduling options to accommodate your busy lifestyle.
Accuracy: At Drs Choice First, we prioritize accuracy in every step of the phlebotomy process. From sample collection to transportation, we ensure that your results are reliable and precise.
Don't compromise on your mobile phlebotomy needs. Contact Drs Choice First today and experience the convenience, expertise, flexibility, and accuracy that sets us apart from the rest.
Mobile Phlebotomy in Ken Caryl CO Dr Choice First DNA Testing, Denver, CO, 877-355-2362