Mobile Phlebotomy in Littleton CO: A Convenient and Expert Service
At Drs Choice First, we pride ourselves on providing exceptional mobile phlebotomy services in Littleton, CO. With years of experience and a team of highly skilled phlebotomists, we understand the importance of convenience and accuracy when it comes to blood collection. Our mobile service brings the expertise of a clinical setting directly to your doorstep, ensuring a comfortable and efficient experience for our clients.
Expertly trained phlebotomists: Our team consists of expertly trained phlebotomists who possess in-depth knowledge and experience in the field of blood collection. They are well-versed in the latest techniques and best practices, ensuring a smooth and professional experience every time.
State-of-the-art equipment: We utilize state-of-the-art equipment to ensure accurate and efficient blood collection. Our advanced tools and technology enable us to provide reliable results while minimizing discomfort for our clients.
Convenience at your fingertips: With our mobile phlebotomy service, you can say goodbye to long waits and inconvenient appointments. We bring the laboratory to you, saving you time and effort. Whether you require blood work for medical purposes or routine health screenings, our mobile service offers the convenience you deserve.
Strict adherence to safety protocols: Your safety is our top priority. We strictly adhere to all safety protocols and industry standards to ensure a sterile and secure environment for blood collection. Our phlebotomists follow proper infection control measures, minimizing the risk of any complications.
Comprehensive range of services: We offer a comprehensive range of mobile phlebotomy services to cater to various needs. From standard blood draws to specialized tests, our experts can handle a wide array of requirements with precision and care.
Personalized and compassionate care: At Drs Choice First, we understand that each individual is unique. We provide personalized and compassionate care, taking into consideration your specific requirements and concerns. Our phlebotomists are skilled in making patients feel comfortable and at ease throughout the process.
Experience the convenience and expertise of mobile phlebotomy with Drs Choice First. Our highly trained phlebotomists, state-of-the-art equipment, and commitment to personalized care ensure that your blood collection experience is efficient, accurate, and stress-free. Contact us today to schedule an appointment and discover the difference of our expert services.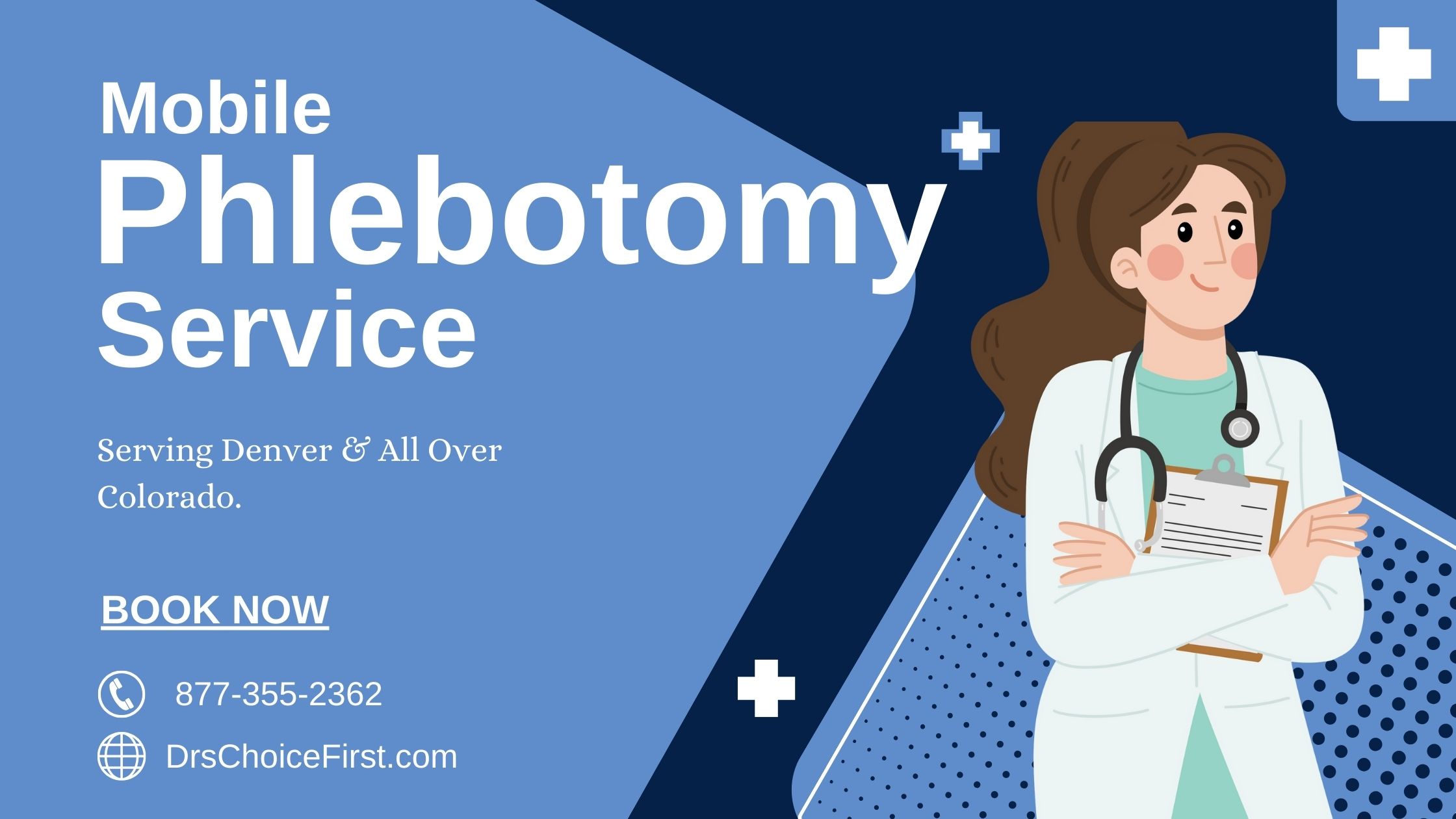 What Sets Drs Choice First Apart from Competitors in Littleton CO
When it comes to mobile phlebotomy services in Littleton CO, Drs Choice First stands out from the competition due to several important factors. Our commitment to excellence, customer-centric approach, and highly skilled team make us the preferred choice for all your phlebotomy needs. Here are the key points to consider:
Experience: Drs Choice First has years of experience in providing mobile phlebotomy services in Littleton CO. Our team of phlebotomists is highly trained and skilled in performing blood draws in a mobile setting, ensuring accuracy and comfort for our clients.
Convenience: We understand the value of convenience, especially for individuals with limited mobility or busy schedules. Our mobile phlebotomy services bring the expertise to your doorstep, saving you time and effort. Whether it's at your home, office, or any other preferred location, we make the process hassle-free.
Quality Assurance: At Drs Choice First, we prioritize the highest standards of quality and safety. Our state-of-the-art equipment and rigorous protocols ensure accurate sample collection and reliable results. We adhere to strict infection control measures, guaranteeing a sanitary and hygienic environment.
Customized Approach: Every patient is unique, and we recognize the importance of personalized care. Our team takes the time to understand your specific needs and concerns, tailoring our services accordingly. We strive to create a comfortable and compassionate experience for each individual.
Timely Results: We understand the significance of timely results in healthcare decision-making. With Drs Choice First, you can expect prompt processing and delivery of your lab samples. Our efficient workflow and strong network with local laboratories ensure quick turnaround times.
In summary, Drs Choice First distinguishes itself from competitors in Littleton CO through its extensive experience, commitment to convenience, emphasis on quality assurance, personalized approach, and efficient delivery of results. Our mission is to provide exceptional mobile phlebotomy services that prioritize your well-being and exceed your expectations.
Performance and Specification Categories
When evaluating the performance of the Mobile Phlebotomy product offered by Drs Choice First in Littleton, CO, it is important to consider various key categories in which it is often compared or measured against competitors. These categories include:
Accuracy: Drs Choice First ensures highly accurate results by employing advanced technology and highly trained phlebotomists.
Efficiency: Our Mobile Phlebotomy service is designed to minimize wait times and optimize the collection process, resulting in improved efficiency.
Safety: We prioritize patient safety by adhering to strict protocols and utilizing sterile equipment, reducing the risk of infection or complications.
Convenience: With our mobile service, patients can have their blood drawn at a location of their choice, eliminating the need to travel to a clinic or hospital.
Reliability: Drs Choice First maintains a reliable and consistent service, ensuring timely and accurate blood collection for diagnostic purposes.
By excelling in these performance categories, Drs Choice First in Littleton, CO surpasses the competition, providing a superior Mobile Phlebotomy experience for patients.
In summary, Drs Choice First's Mobile Phlebotomy product outperforms competitors in terms of accuracy, efficiency, safety, convenience, and reliability. Our dedication to excellence in these essential performance categories sets us apart, ensuring a superior service for our valued patients.
Littleton, CO, is a charming city that offers a plethora of highlights for both residents and visitors. One of the city's main attractions is its historic downtown area, filled with quaint shops, delicious restaurants, and vibrant art galleries. Littleton also boasts an impressive parks and trails system, with over 1,400 acres of open space, perfect for outdoor enthusiasts to enjoy hiking, biking, and exploring. The city is also home to the beautiful Hudson Gardens, a botanical paradise that hosts various concerts and events throughout the year. Additionally, Littleton is known for its strong sense of community, with numerous festivals and gatherings that bring people together. Overall, Littleton offers a delightful blend of history, natural beauty, and community spirit, making it an ideal place to live or visit.
Pros and Cons of Mobile Phlebotomy in Littleton CO
At Drs Choice First, we understand the importance of providing convenient and accessible healthcare services to the residents of Littleton CO. Mobile phlebotomy, a service where phlebotomists travel to patients' homes or offices to collect blood samples, can offer several benefits. However, it's essential to consider both the advantages and disadvantages before opting for this service.
Pros:
Convenience: Mobile phlebotomy eliminates the need for patients to travel to healthcare facilities, saving time and effort.
Comfort: Many individuals feel more comfortable in their familiar surroundings, resulting in reduced anxiety during the blood collection process.
Accessibility: Mobile phlebotomy enables individuals with limited mobility or those residing in remote areas to access necessary medical services without difficulty.
Flexibility: By offering on-site blood collection, mobile phlebotomy accommodates patients' busy schedules, providing flexibility for appointments.
Minimized waiting times: With mobile phlebotomy, patients can avoid long wait times typically associated with visiting a healthcare facility.
Cons:
Equipment limitations: Mobile phlebotomy may have certain limitations in terms of equipment and supplies compared to fully equipped medical facilities.
Limited services: Certain complex tests or procedures may not be feasible to conduct in a mobile setting, requiring patients to visit a lab or hospital for further diagnostics.
Privacy concerns: While efforts are made to maintain privacy during mobile phlebotomy, patients may have concerns about confidentiality when providing blood samples in their homes or workplaces.
Emergency situations: In cases of emergencies or urgent medical needs, mobile phlebotomy may not be the most appropriate option, as immediate access to comprehensive medical care may be necessary.
In summary, mobile phlebotomy in Littleton CO offers convenience, comfort, and accessibility for patients. However, it's important to consider the potential limitations in terms of equipment, services, privacy, and emergency situations. At Drs Choice First, we strive to provide the best possible care while considering the individual needs and circumstances of our patients.
Choose Drs Choice First for Your Mobile Phlebotomy Needs in Littleton CO
When it comes to mobile phlebotomy services in Littleton CO, Drs Choice First is the top choice. With our team of highly skilled and experienced phlebotomists, we are committed to providing you with the utmost convenience and quality care. Here's why you should contact us today:
Convenience: Our mobile phlebotomy services bring the laboratory to you, eliminating the need for you to travel to a healthcare facility. We understand that your time is valuable, and we strive to make the process as convenient as possible.
Expertise: Our phlebotomists are trained professionals who specialize in drawing blood samples. They possess the necessary skills and knowledge to ensure accurate and efficient blood collection, making your experience as comfortable as possible.
Quality Care: At Drs Choice First, we prioritize the well-being of our patients. We adhere to strict protocols and safety measures to maintain the highest standards of quality care. You can trust us to handle your blood collection needs with professionalism and precision.
Personalized Service: We understand that each patient is unique, and we strive to provide personalized care tailored to your specific needs. Our phlebotomists take the time to listen to your concerns and address any questions you may have, ensuring a positive experience throughout.
Timely Results: With our efficient laboratory processes, you can expect timely and accurate results. We understand the importance of obtaining prompt results for diagnosis and treatment, and we work diligently to deliver them to you as quickly as possible.
Don't delay your mobile phlebotomy needs any longer. Contact Drs Choice First in Littleton CO today and experience the convenience, expertise, and quality care that sets us apart.
Mobile Phlebotomy in Littleton CO Dr Choice First DNA Testing, Denver, CO, 877-355-2362