Mobile Phlebotomy in Northglenn CO: What to Expect
At Drs Choice First in Northglenn CO, we take pride in offering expert mobile phlebotomy services. With years of experience and a deep understanding of the field, our team of professionals is dedicated to providing a seamless and convenient experience for our clients. Here's what you can expect when you choose our mobile phlebotomy services:
Flexible and convenient appointments that fit your schedule.
Experienced and highly skilled phlebotomists who prioritize your comfort and safety.
State-of-the-art equipment and techniques to ensure accurate and efficient blood collection.
Strict adherence to hygiene and safety protocols to minimize any potential risks.
Timely and reliable results, delivered to you promptly.
Efficient coordination with healthcare providers to ensure seamless integration of our services into your healthcare plan.
Compassionate and friendly staff who are always ready to address any concerns or questions you may have.
Transparent pricing and billing practices, with no hidden costs or surprises.
Choosing Drs Choice First for your mobile phlebotomy needs in Northglenn CO means opting for the expertise and knowledge that only seasoned professionals can provide. Our team is committed to making your experience as comfortable and convenient as possible, all while ensuring accurate and reliable results. Experience the difference with Drs Choice First.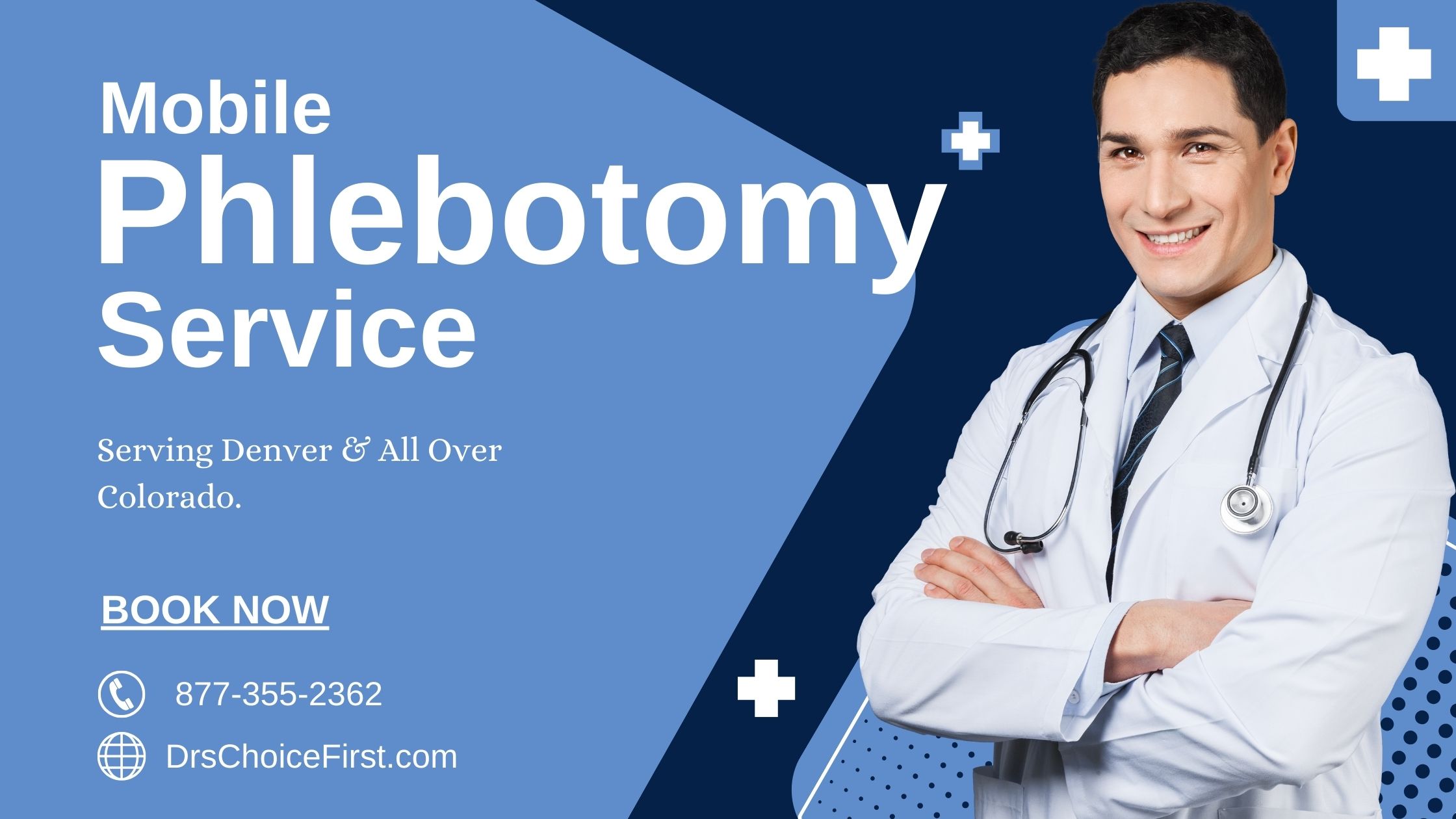 What sets Drs Choice First apart from the competition in Northglenn CO
When it comes to Mobile Phlebotomy services in Northglenn CO, Drs Choice First stands out from the competition in several key ways. Our commitment to excellence, customer satisfaction, and convenience sets us apart and ensures that our clients receive the highest standard of care. Here are the most important factors to consider when choosing Drs Choice First for your mobile phlebotomy needs:
Expertise: Our team of skilled and experienced phlebotomists are trained to handle various types of blood draws and are knowledgeable in the latest techniques and protocols.
Convenience: We understand that visiting a medical facility for blood tests can be time-consuming and inconvenient. With our mobile phlebotomy services, we bring the convenience of blood collection to your preferred location, whether it's your home, office, or another convenient setting.
Patient comfort: At Drs Choice First, we prioritize patient comfort during the blood collection process. Our phlebotomists are trained to provide a calm and supportive environment, ensuring a positive experience for every patient.
Strict safety measures: We adhere to strict safety protocols to ensure the safety of both our clients and our staff. Our phlebotomists follow industry standards for infection control and take necessary precautions to minimize any potential risks.
Timely and accurate results: We understand the importance of timely and accurate results for effective medical treatment. Our streamlined processes and efficient laboratory partnerships enable us to deliver prompt and precise test results to our clients.
Personalized care: We believe in providing personalized care to each of our clients. Our phlebotomists take the time to understand your unique needs and ensure that your blood draw is conducted with utmost care and precision.
In summary, Drs Choice First in Northglenn CO distinguishes itself from the competition through its expertise, convenience, patient comfort, safety measures, timely results, and personalized care. With our commitment to excellence, we strive to provide the best mobile phlebotomy services to our valued clients.
Performance and Specification Categories
When evaluating the performance of the Mobile Phlebotomy product by Drs Choice First in Northglenn CO, it is important to consider various performance and specification categories in which it is often compared or measured against competitors. These categories play a crucial role in determining the efficiency and effectiveness of the product, ensuring that it meets the highest standards in the industry.
Accuracy: Drs Choice First Mobile Phlebotomy ensures exceptional accuracy in blood sample collection, minimizing the risk of errors and ensuring reliable test results.
Speed: Our product offers swift and efficient phlebotomy services, reducing wait times and increasing overall patient satisfaction.
Convenience: With Drs Choice First, patients can conveniently schedule appointments and have their blood drawn at a location of their choice, saving time and effort.
Safety: We prioritize the safety of both patients and phlebotomists, implementing stringent protocols to prevent contamination and ensure a secure blood collection process.
Professionalism: Our team of highly skilled and experienced phlebotomists provides exceptional service, ensuring a comfortable and stress-free experience for patients.
Customer Satisfaction: Drs Choice First consistently receives outstanding feedback from our customers, reflecting their high level of satisfaction with our Mobile Phlebotomy service.
By excelling in these performance categories, Drs Choice First in Northglenn CO offers a superior Mobile Phlebotomy product that surpasses the competition. Our dedication to accuracy, speed, convenience, safety, professionalism, and customer satisfaction sets us apart and establishes us as leaders in the industry.
Northglenn, CO, is a vibrant city with a plethora of highlights that make it a desirable place to live and visit. One of the city's main attractions is the Northglenn Recreation Center, which offers a wide range of activities and amenities for all ages. From indoor pools and fitness facilities to basketball courts and a climbing wall, there is something for everyone to enjoy. Another highlight is the Northglenn Marketplace, a bustling shopping district that features a variety of stores, restaurants, and entertainment options. Additionally, the city boasts an extensive trail system, perfect for outdoor enthusiasts looking to explore the beautiful Colorado landscape. With its friendly community, diverse range of amenities, and close proximity to Denver, Northglenn is truly a city worth experiencing.
Pros and Cons of Mobile Phlebotomy in Northglenn CO
Mobile phlebotomy is an innovative healthcare service that offers numerous benefits and drawbacks for patients in Northglenn CO. As the leading provider of mobile phlebotomy services in the region, Drs Choice First aims to provide a comprehensive overview of the pros and cons associated with this service.
Convenience: Mobile phlebotomy eliminates the need for patients to travel to a healthcare facility, saving them time and effort.
Accessibility: This service is especially beneficial for individuals with limited mobility, elderly patients, or those living in remote areas.
Reduced waiting times: Mobile phlebotomy services minimize waiting times, as appointments can be scheduled at the patient's preferred location and time.
Comfort and privacy: Patients often feel more at ease in their own environment, leading to improved comfort and privacy during the blood draw.
Less exposure to pathogens: By avoiding crowded waiting rooms, patients face a lower risk of being exposed to contagious diseases.
Customized experience: Mobile phlebotomy allows for personalized care, tailored to the specific needs and preferences of each patient.
Higher cost: Mobile phlebotomy services may come at a higher cost compared to traditional in-clinic services due to the added convenience and personalized experience.
Potential delays: Factors such as traffic, weather conditions, or unexpected circumstances can lead to delays in arrival times.
Equipment limitations: Mobile phlebotomists may have more limited access to specialized equipment or resources compared to traditional clinics.
In summary, mobile phlebotomy offers numerous advantages, including convenience, accessibility, reduced waiting times, and enhanced comfort and privacy. However, it is important to consider the higher cost, potential delays, and equipment limitations associated with this service. At Drs Choice First, we strive to provide exceptional mobile phlebotomy services while ensuring our patients are aware of the pros and cons to make informed decisions about their healthcare needs.
Contact Drs Choice First for Your Mobile Phlebotomy Needs in Northglenn CO Today!
When it comes to your mobile phlebotomy needs in Northglenn CO, there is no better choice than Drs Choice First. With our team of highly skilled and experienced phlebotomists, we are committed to providing convenient and efficient services right at your doorstep.
By choosing Drs Choice First, you can enjoy the following benefits:
Convenience: Our mobile phlebotomy service eliminates the need for you to travel to a clinic or hospital, saving you time and effort.
Comfort: We understand that some individuals may feel anxious or uncomfortable in medical settings. Our team ensures a comfortable and stress-free experience in the familiarity of your own home.
Expertise: Our phlebotomists are highly trained professionals who prioritize accuracy and precision in every blood draw. You can trust us to handle your samples with utmost care.
Time-Saving: With our mobile service, you can avoid long wait times at clinics or hospitals. We value your time and strive to provide prompt and efficient service.
Flexibility: We offer flexible appointment scheduling to accommodate your busy lifestyle. Whether you need a blood draw in the morning, afternoon, or evening, we are here to assist you.
Don't hesitate to contact Drs Choice First today to schedule your mobile phlebotomy appointment in Northglenn CO. Experience the convenience, comfort, and expertise that sets us apart from the rest. Trust us with your phlebotomy needs, and we'll ensure a seamless and hassle-free experience for you.
Mobile Phlebotomy in Northglenn CO Dr Choice First DNA Testing, Denver, CO, 877-355-2362