Mobile Phlebotomy in Parker CO: A Convenient and Expert Service
At Drs Choice First, we take pride in providing exceptional mobile phlebotomy services in Parker CO. With our team of experienced professionals, we offer convenient and reliable blood collection right at your doorstep. Our expertise in the field ensures a seamless and comfortable experience for our clients, making us the preferred choice for mobile phlebotomy services.
Our expert phlebotomists are highly trained and certified, guaranteeing accurate and efficient blood collection.
We follow strict protocols for safety and hygiene, ensuring a sterile and secure environment during the entire procedure.
Our mobile phlebotomy service eliminates the need for you to travel to a clinic or laboratory, saving you time and effort.
We understand the importance of punctuality, and our team ensures that appointments are scheduled and executed promptly.
With our state-of-the-art equipment, we can perform blood collection with minimal discomfort, catering to individuals of all ages.
Our friendly and compassionate staff prioritize your comfort and well-being, providing a positive and stress-free experience.
We offer flexible scheduling options, including evening and weekend appointments, to accommodate your busy lifestyle.
Our mobile phlebotomy services are available for a wide range of purposes, including medical testing, health screenings, and insurance requirements.
We work closely with healthcare providers and laboratories, ensuring accurate and timely delivery of your blood samples for testing.
Experience the convenience and expertise of Drs Choice First's mobile phlebotomy services in Parker CO. Our knowledgeable professionals bring the laboratory to you, ensuring a hassle-free and precise blood collection process. Trust our team to provide exceptional service that prioritizes your comfort, safety, and well-being.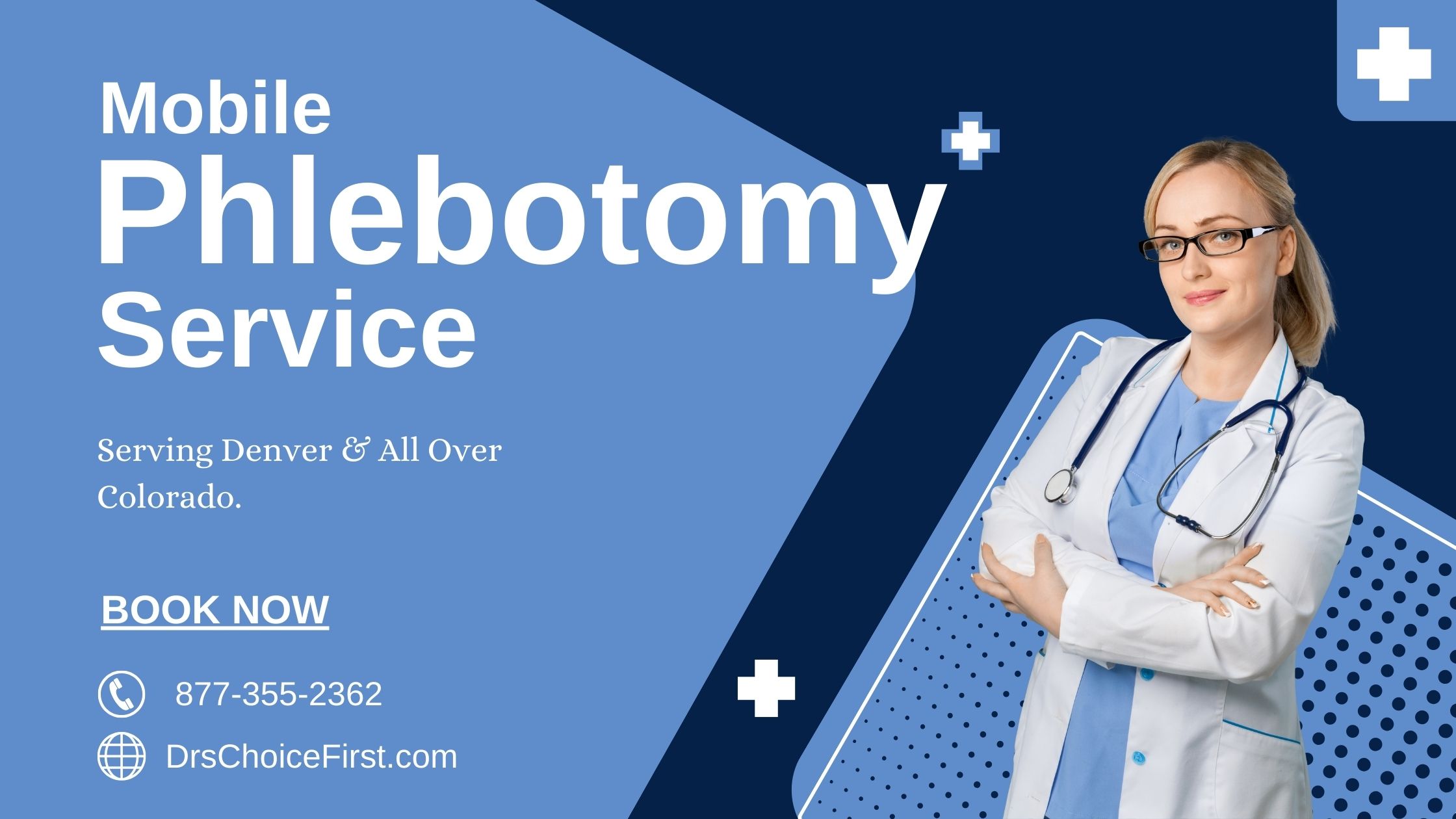 What Sets Drs Choice First Apart from Competitors in Parker CO
As the leading provider of mobile phlebotomy services in Parker CO, Drs Choice First stands out from its competitors in several key ways. We understand the importance of convenience, accuracy, and exceptional patient care, and strive to deliver the highest level of service to our clients. Here are the most important factors that set us apart:
Expert Phlebotomists: Our team consists of highly trained and experienced phlebotomists who are skilled in drawing blood samples with precision and care. They are knowledgeable about the latest techniques and ensure the collection process is as comfortable as possible for our clients.
Convenience: Unlike traditional phlebotomy services, we bring our expertise directly to our clients' homes or offices. This eliminates the need for travel and long waiting times at clinics or hospitals, making the process more convenient and time-saving.
Patient-Centric Approach: At Drs Choice First, we prioritize the well-being and comfort of our patients above all else. Our phlebotomists are trained to provide a compassionate and empathetic experience, addressing any concerns or anxieties patients may have. We strive to create a safe and supportive environment throughout the entire process.
Strict Quality Control: We adhere to the highest standards of quality control to ensure accurate and reliable results. Our equipment is regularly calibrated and maintained, and we follow rigorous protocols in sample handling and processing. This guarantees the integrity of the samples and the accuracy of the tests performed.
Timely Results: We understand the importance of swift results when it comes to healthcare. Our efficient processes and dedicated laboratory partners enable us to deliver timely results to our clients, allowing for prompt diagnosis and treatment.
Comprehensive Services: In addition to mobile phlebotomy, Drs Choice First offers a wide range of laboratory testing services to cater to diverse healthcare needs. From routine blood tests to specialized screenings, our comprehensive menu of tests ensures that our clients receive comprehensive diagnostic support.
In summary, Drs Choice First distinguishes itself from competitors in Parker CO by providing expert phlebotomy services with a focus on convenience, patient-centered care, strict quality control, timely results, and a comprehensive range of services. With our commitment to excellence, we aim to be the preferred choice for mobile phlebotomy in the Parker CO area.
Performance and Specification Categories
When evaluating the Mobile Phlebotomy product offered by Drs Choice First in Parker CO, it is important to consider how it measures up against competitors in terms of performance and specification categories. These categories provide a quantitative measurement of the product's capabilities and overall quality.
Accuracy: Drs Choice First's Mobile Phlebotomy product offers highly accurate blood sample collection, ensuring reliable test results.
Efficiency: With a streamlined workflow and advanced technology, Drs Choice First's product enables faster and more efficient phlebotomy procedures.
Portability: The mobile design of Drs Choice First's product allows for convenient on-site blood sample collection, eliminating the need for patients to travel to clinics or hospitals.
Reliability: Drs Choice First's Mobile Phlebotomy product is built with durable materials and undergoes rigorous testing to ensure long-term reliability and performance.
Convenience: By offering flexible scheduling options and personalized service, Drs Choice First prioritizes the convenience of patients, ensuring a positive experience during phlebotomy procedures.
Overall, Drs Choice First's Mobile Phlebotomy product surpasses competitors in terms of accuracy, efficiency, portability, reliability, and convenience. With its commitment to providing high-quality and convenient phlebotomy services, Drs Choice First stands out as a leader in the industry.
Parker, CO, is a vibrant city that offers a plethora of highlights for residents and visitors alike. One of the main attractions is the beautiful and well-maintained parks and open spaces, such as the picturesque Cherry Creek Trail and the expansive Parker Recreation Center. The city also boasts a charming downtown area with a variety of shops, restaurants, and entertainment options, including the popular Parker Arts, Culture, and Events Center. Additionally, Parker hosts numerous community events throughout the year, such as the Parker Days Festival and the Parker Farmers Market, providing residents with opportunities to engage with their neighbors and enjoy the local culture. With its stunning natural beauty, thriving community, and diverse range of activities, Parker, CO, is truly a city that has something for everyone.
Pros and Cons of Mobile Phlebotomy in Parker CO
As a leading provider of healthcare services in Parker CO, Drs Choice First understands the importance of convenience and accessibility in the medical field. Mobile phlebotomy, a service that brings blood collection to patients' homes or workplaces, has gained popularity in recent years. While there are several benefits to this approach, it is important to consider the drawbacks as well. In this article, we will discuss the most important pros and cons of mobile phlebotomy in Parker CO.
Pros:
Convenience: Mobile phlebotomy eliminates the need for patients to travel to a medical facility, saving them time and effort.
Comfort: Many individuals feel more at ease in their own environment, which can lead to a more relaxed blood collection experience.
Reduced anxiety: For patients with a fear of needles or medical settings, mobile phlebotomy offers a less intimidating alternative.
Time-saving: Mobile phlebotomists can accommodate patients' schedules, providing flexibility and avoiding long waiting times.
Accessibility: This service is particularly valuable for individuals with limited mobility or those residing in remote areas.
Cons:
Limited resources: Mobile phlebotomists may not have access to the same range of medical equipment and facilities as traditional clinics or hospitals.
Increased cost: Due to the additional expenses associated with travel and equipment, mobile phlebotomy services may be more expensive than in-clinic options.
Potential delays: Factors such as traffic or unforeseen circumstances can lead to delays in the arrival of the mobile phlebotomist, impacting scheduling and patient satisfaction.
Privacy concerns: Conducting blood collection in a non-medical setting may raise privacy concerns for some individuals.
Infection control: Ensuring proper sterilization and hygiene practices can be more challenging in a mobile setting, although reputable mobile phlebotomy providers adhere to strict protocols.
In summary, mobile phlebotomy in Parker CO offers numerous benefits, including convenience, comfort, and reduced anxiety for patients. However, it is important to consider the potential drawbacks, such as limited resources, increased cost, and privacy concerns. By weighing the pros and cons, individuals can make an informed decision about whether mobile phlebotomy aligns with their specific needs and preferences.
Why Choose Drs Choice First for Your Mobile Phlebotomy Needs in Parker CO
When it comes to mobile phlebotomy services in Parker CO, Drs Choice First is the clear choice. With our team of highly skilled and experienced phlebotomists, we are committed to providing you with convenient and reliable blood collection services right at your doorstep.
Here are just a few reasons why you should contact Drs Choice First today:
Convenience: Our mobile phlebotomy services eliminate the need for you to travel to a clinic or hospital, saving you time and effort. We come to you, whether it's at your home, office, or any other location of your choice.
Expertise: Our phlebotomists are trained professionals who specialize in blood collection. They have the knowledge and skills to ensure accurate and efficient sample collection, minimizing discomfort and maximizing the quality of your results.
Flexibility: We understand that everyone's schedule is different. That's why we offer flexible appointment options, including weekends and evenings, to accommodate your busy lifestyle.
Strict Adherence to Safety Protocols: Your health and safety are our top priorities. We strictly follow all necessary safety and infection control protocols to provide you with a safe and hygienic environment during the phlebotomy process.
Fast Turnaround Time: At Drs Choice First, we understand the importance of timely results. We strive to deliver fast turnaround times, ensuring that you receive your test results promptly.
Don't wait any longer to experience the convenience and professionalism of Drs Choice First's mobile phlebotomy services. Contact us today and let us take care of all your blood collection needs in Parker CO.
Mobile Phlebotomy in Parker CO Dr Choice First DNA Testing, Denver, CO, 877-355-2362