Mobile Phlebotomy in Thornton CO: A Convenient and Expert Service
At Drs Choice First, we offer a top-notch Mobile Phlebotomy service in Thornton CO that is designed to provide convenience and expert care to our patients. With years of experience in the field, our team of highly skilled phlebotomists ensures a seamless and comfortable experience, right from the comfort of your own home or preferred location.
Our experts are fully trained and experienced in mobile phlebotomy, guaranteeing accurate and efficient blood sample collection.
We utilize state-of-the-art equipment and follow strict protocols to ensure the highest standards of hygiene and safety.
With our mobile service, you can eliminate the hassle of traveling to a clinic or hospital, saving you time and reducing stress.
We understand the importance of punctuality and strive to arrive promptly at your scheduled appointment time.
Our team is well-equipped to handle various phlebotomy needs, including routine blood tests, specialized screenings, and sample collection for diagnostic purposes.
We prioritize patient comfort and strive to make the experience as painless and comfortable as possible.
Our mobile phlebotomy service is available for individuals of all ages, including children and elderly patients.
We work closely with healthcare providers and laboratories to ensure accurate and timely delivery of samples for analysis.
Experience the convenience and expertise of our Mobile Phlebotomy service in Thornton CO with Drs Choice First. Our team of skilled professionals is dedicated to providing a seamless and comfortable experience, right at your doorstep. Say goodbye to long waits and tedious clinic visits – let us bring the lab to you.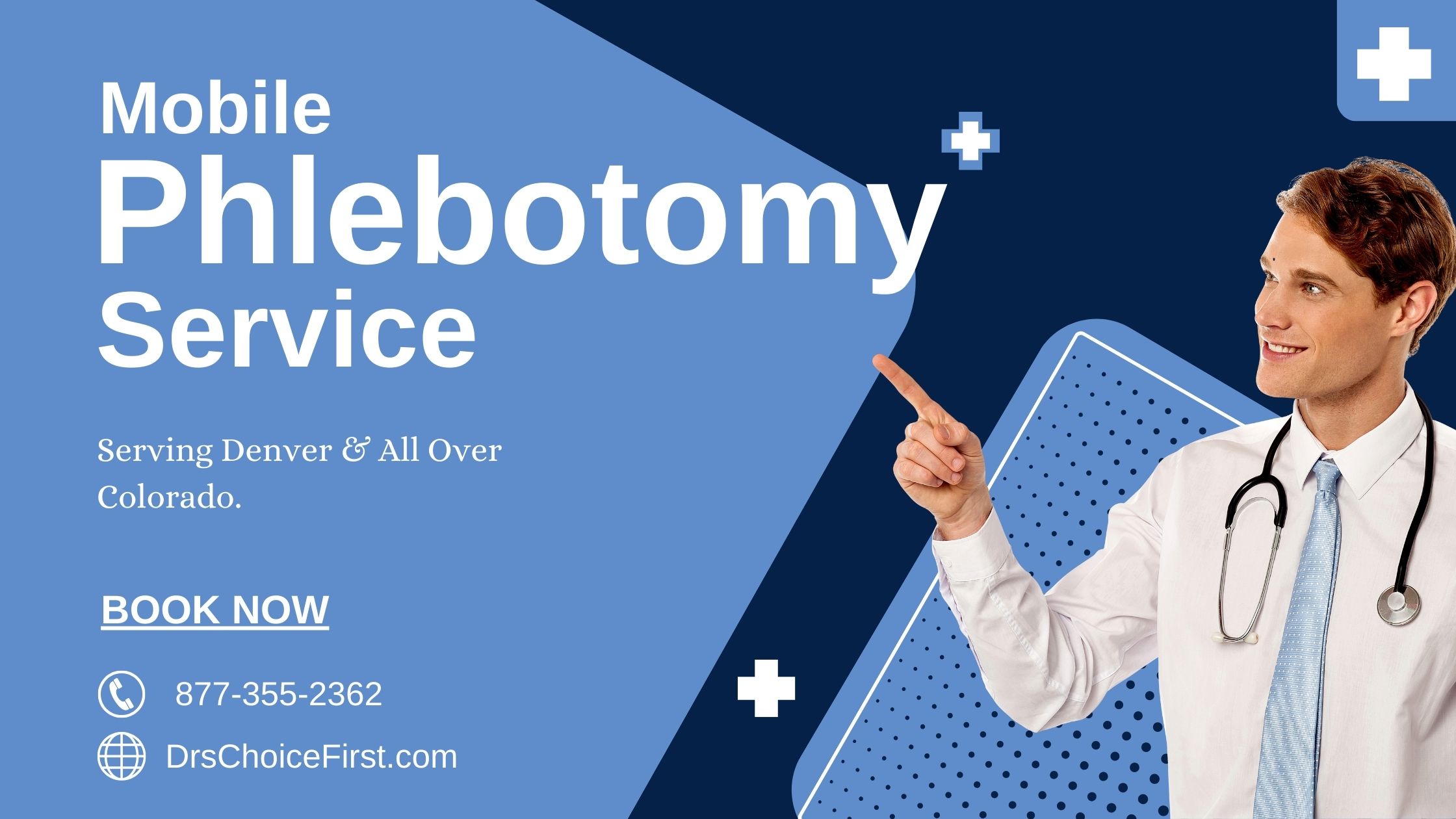 What Sets Drs Choice First Apart from Competitors in Thornton CO
As the leading provider of mobile phlebotomy services in Thornton CO, Drs Choice First strives to deliver exceptional and unparalleled service to our valued clients. What sets us apart from our competitors is our unwavering commitment to quality, convenience, and patient satisfaction. Our team of highly skilled and experienced phlebotomists, combined with our state-of-the-art equipment and streamlined processes, ensures that every client receives the highest level of care and professionalism.
Expertise: Our phlebotomists are extensively trained and certified, possessing a deep understanding of the best practices and techniques in blood collection. They have the knowledge and skill to handle even the most challenging cases with precision and efficiency.
Convenience: Unlike traditional phlebotomy services that require patients to visit a clinic or hospital, our mobile phlebotomy service brings the convenience of blood collection directly to our clients' homes or offices. This eliminates the need for travel, long wait times, and the stress associated with visiting a medical facility.
Flexibility: We understand that our clients have busy schedules and unique needs. That's why we offer flexible appointment options, including evenings and weekends, to accommodate their preferences. Our goal is to make the phlebotomy process as convenient and hassle-free as possible.
Quality Assurance: At Drs Choice First, we prioritize the accuracy and reliability of our services. We adhere to strict quality control measures, ensuring that all blood samples are collected, handled, and processed with the utmost care. Our commitment to quality assurance guarantees accurate test results that healthcare providers can trust.
Compassionate Care: We recognize that some individuals may experience anxiety or fear during blood collection. Our phlebotomists are trained to provide compassionate care, offering a calming and supportive environment. We strive to make each client feel comfortable and at ease throughout the entire process.
In conclusion, Drs Choice First stands out from our competitors in Thornton CO due to our expertise, convenience, flexibility, quality assurance, and compassionate care. With a focus on delivering exceptional service, we are dedicated to meeting the unique needs and exceeding the expectations of our clients. Trust Drs Choice First for all your mobile phlebotomy needs.
Performance and Specification Categories
When evaluating the Mobile Phlebotomy product offered by Drs Choice First in Thornton CO, it is important to consider its performance and how it measures up against competitors. The following points highlight the key aspects where Drs Choice First excels:
Accuracy: Drs Choice First Mobile Phlebotomy ensures precise blood collection and handling, minimizing the risk of errors during the process.
Efficiency: Our product streamlines the phlebotomy process, allowing for quicker and more convenient blood sample collection, reducing waiting times for patients.
Portability: Drs Choice First Mobile Phlebotomy unit is lightweight and compact, enabling phlebotomists to easily transport and set up the equipment in various locations.
Reliability: Our product is built with high-quality materials and advanced technology, ensuring reliable performance and durability over extended periods of use.
Patient Comfort: Drs Choice First prioritizes patient comfort by incorporating features such as adjustable armrests, cushioned seating, and ergonomic design into our Mobile Phlebotomy product.
In summary, Drs Choice First's Mobile Phlebotomy product surpasses competitors in terms of accuracy, efficiency, portability, reliability, and patient comfort. These superior performance attributes make it the ideal choice for healthcare professionals seeking exceptional mobile phlebotomy equipment.
Located in Adams County, Colorado, Thornton is a vibrant city that offers a wide range of attractions and activities for residents and visitors alike. One of the highlights of Thornton is its beautiful natural surroundings, with numerous parks and open spaces that provide opportunities for outdoor recreation and relaxation. Standley Lake Regional Park, for example, offers boating, fishing, and hiking opportunities, while the Thornton Community Center Park boasts a splash pad, playgrounds, and walking trails. Additionally, Thornton is home to a thriving arts and culture scene, with the Thornton Arts and Culture Center showcasing local talent through exhibits, workshops, and performances. The city also hosts a variety of annual events and festivals, such as the Thornton WinterFest and the Harvest Fest, which bring the community together for lively celebrations. With its abundance of recreational activities, cultural attractions, and community events, Thornton truly offers something for everyone to enjoy.
Pros and Cons of Mobile Phlebotomy in Thornton CO
At Drs Choice First in Thornton CO, we understand the importance of convenience and accessibility when it comes to healthcare services. Mobile phlebotomy, a service where a certified phlebotomist comes directly to your location to collect blood samples, offers several benefits and drawbacks worth considering.
Pros:

Convenience: Mobile phlebotomy eliminates the need for patients to travel to a medical facility, saving them time and effort.
Comfort: Being able to provide blood samples in the comfort of one's own environment can help alleviate stress and anxiety for some patients.
Accessibility: Mobile phlebotomy services are particularly beneficial for individuals with limited mobility or those residing in remote areas without easy access to a healthcare facility.
Personalized Care: By bringing phlebotomy services to the patient, mobile phlebotomists can offer individualized attention and address any specific concerns or preferences.
Time Efficiency: Mobile phlebotomy appointments can often be scheduled at a specific time, minimizing waiting times and allowing patients to plan their day more efficiently.

Cons:

Limited Resources: Mobile phlebotomy may have certain limitations in terms of equipment and resources compared to a fully equipped medical facility.
Restricted Services: Some complex tests or procedures may require a laboratory setting, making them unavailable through mobile phlebotomy services.
Higher Costs: Mobile phlebotomy services may come at a higher cost compared to traditional in-facility phlebotomy, considering the additional expenses related to transportation and specialized equipment.
Potential for Delays: Factors such as traffic, weather conditions, or unforeseen circumstances may lead to delays in the arrival of the mobile phlebotomist.
Security and Confidentiality: Ensuring the privacy and security of patient information and samples can be more challenging in a non-clinical setting.
Considering the pros and cons of mobile phlebotomy in Thornton CO, it becomes evident that this service offers convenience, comfort, and accessibility to patients. However, it may have limitations in terms of resources, restricted services, and potentially higher costs. Weighing these factors is crucial to determine if mobile phlebotomy is the right choice for your specific needs.
Why Choose Drs Choice First for Your Mobile Phlebotomy Needs in Thornton CO?
When it comes to your mobile phlebotomy needs in Thornton CO, there is no better choice than Drs Choice First. With our team of highly skilled and experienced phlebotomists, we are committed to providing you with the highest quality of care and convenience.
Here are a few reasons why you should contact Drs Choice First today:
Expertise: Our phlebotomists are trained professionals who have extensive knowledge and experience in performing blood draws. You can trust that your samples will be collected accurately and efficiently.
Convenience: We understand that your time is valuable. That's why we offer mobile phlebotomy services, bringing our expertise right to your doorstep. No need to travel to a clinic or wait in long queues.
Comfort: We prioritize your comfort and strive to create a stress-free environment during the blood collection process. Our friendly and compassionate phlebotomists will guide you through the procedure, ensuring a positive experience.
Reliability: Drs Choice First is dedicated to providing reliable services. We are committed to timeliness, accuracy, and maintaining the highest standards of professionalism.
Don't hesitate to reach out to Drs Choice First for all your mobile phlebotomy needs in Thornton CO. Experience the convenience, expertise, and care that sets us apart. Contact us today to schedule an appointment!
Mobile Phlebotomy in Thornton CO Dr Choice First DNA Testing, Denver, CO, 877-355-2362